Back in 2014, NARS launched The Audacious Lipstick, a 40-piece line of lip color that has quickly become one of my favorites.
Housed in a modern, matte-black metallic case with a magnetic closure, the NARS Audacious Lipstick comes in a specially designed sculpted bullet embossed with the NARS logo. The formula claims to be pigment-rich for an intense, full-coverage finish in a single stroke and comes with nutrient-rich ingredients known to smooth, moisturize and volumize.
There are 40 shades available, ranging from the prettiest nudes and corals to vibrant reds and pinks and smoldering plums.
Claudia – Cool pink
Catherine – Sunny guava
Michiyo – Shocking pink
Juliette – Pink coral
Greta – Wild azalea
Natalie – Flamingo
Angela – Pink orchid
Grace – Bright pink coral
Janet – Deep magenta
Geraldine – Tangerine
Fanny – Rich berry
Lana – Vivid orange red
Vera – Bright raspberry
Annabella – Poppy red
Charlotte – Oxblood burgundy
Rita – Scarlet
Audrey – Red currant
Marlene – Red brick
Anna – Smokey rose
Olivia – Garnet
Anita – Antique rose
Leslie – Cherrywood
Jane – Terracota rose
Jeanne – Cherry red
Brigitte – Nude rose
Deborah – Chestnut
Babara – Tan rose
Bette – Bordeaux
Raquel – Pink beige
Liv – Deep aubergine
Barney's New York Exclusive Shades
Vanessa – Mauve nude
Dominique – Pink lilac
Julie – Nude pink
Silvia – Radiant orchid
Marisa – Warm pink
Vivien – Red plum
Kelly – Coral hibiscus
Sandra – Rosewood
Carmen – Geranium
Ingrid – Merlot
The lipsticks applied evenly with a creamy texture and the color payoff was superb just like the NARS Cinematic Lipsticks I loved. They also felt semi-moisturizing yet lightweight on my dry lips. The finish was satiny with just a tinge of shine and I was able to get a good 4-5 hours of wear out of them without touching up.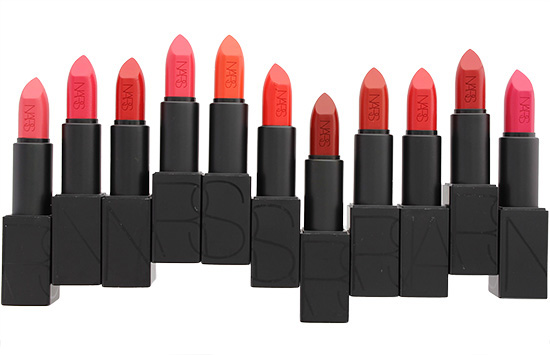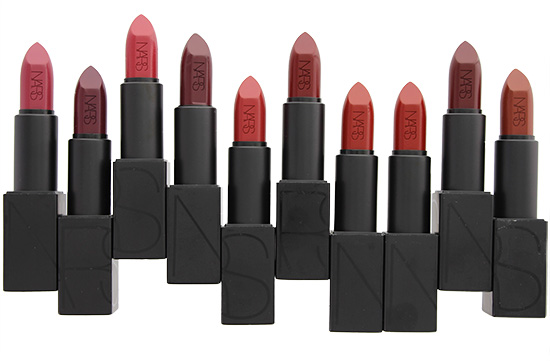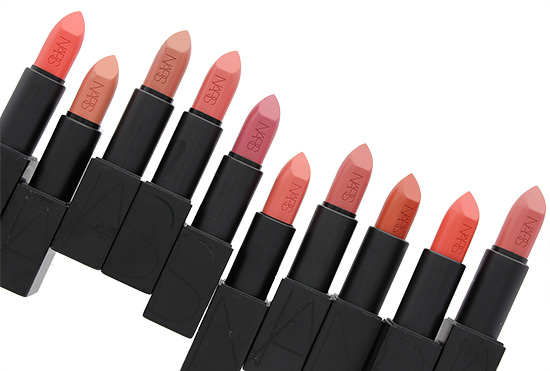 NARS The Audacious Lipstick is available at narscosmetics.com, Sephora and Department/Specialty Stores for $32.
Disclosure: This review includes products that were provided by the manufacturer/PR firm for consideration only. It may also contain an affiliate link, which gives us a small commission if you purchase the items. Please see our Disclosure for more information on our posting policy.