At Marc Jacobs Spring/Summer 2014, models donned a bright eye paired with a dyed blonde choppy bob.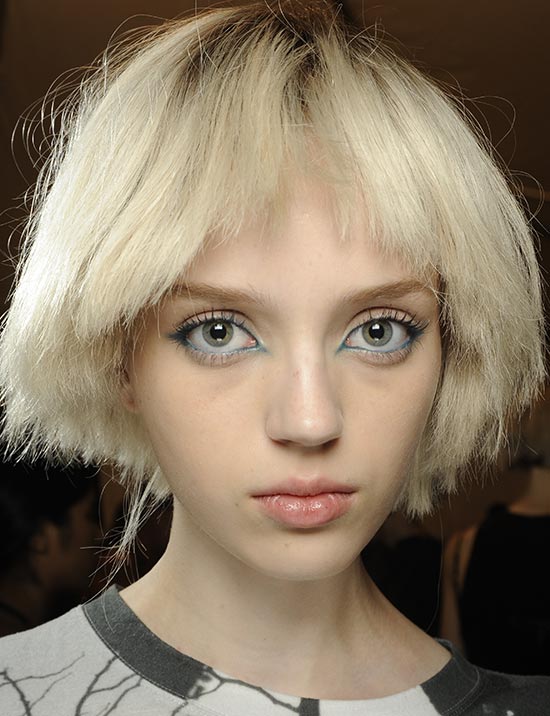 "This is a summer look that's all about the eye. Most of the girls have a teal blue line, but some have a royal blue, extending past both the inner and outer corner. The skin is very transparent for a flushed look." explained François Nars, Founder & Creative Director of NARS Cosmetics.
Face
Pure Radiant Tinted Moisturizer Broad Spectrum SPF 30
Radiant Creamy Concealer
Light Reflecting Loose Setting Powder
Light Reflecting Pressed Setting Powder
Eyes
Teal Eye Look: Kalisté Eyeliner Pencil
Royal Blue Look: Blue Dahlia Larger Than Life Long-Wear Eyeliner Eyeliner (Limited Edition for Holiday 2013; for now try Rue Saint-Honoré Larger Than Life Long-Wear Eyeliner Eyeliner with Outremer Eyeshadow)
Larger Than Life® Lengthening Mascara
Larger Than Life® Volumizing Mascara
Hair
Redken
Creative Consultant
Guido
aligned the hair this season with the youthful, carefree style of Marc's collection. Once the wigs were lightened, Guido's team went back and darkened the roots to replicate regrowth. From the color to the choppy, somewhat messy cut, this look screams youthful nonconformity at its best.
"Why wigs? I suppose Marc and I really liked the uniformity that only wigs can create on the runway. This look was designed to encompass the type of free-spirited girl that Marc loves and ultimately designs for. She is somewhat punk and boyish, which is why the wig is bowl-shaped and asymmetrically cut around the face. It is almost as if she took the scissors to her own hair, completely confident and entirely in tune with her own personal style."
Create The Look
Step 1. Apply guts 10 root targeted volume spray foam to dry hair from roots to ends and comb through until hair is completely saturated.
Step 2. Divide hair into two sections (top and bottom) in the back. Make three or four parts if hair is very thick.
Step 3. Clip the bottom section down and out of the way, and then using a finishing brush; start to brush the top section flat against the head, following the round of the head in one direction. Repeat this with each section making sure it's very clean and neat-looking when finished.
Step 4. Blow dry hair until completely dry. Apply control addict 28 high hold hairspray and then place wig cap on so it completely covers the head.
Step 5. Once the wig is secure, apply forceful 23 super strength finishing spray to add texture