During The Makeup Show Chicago 2013, I finally got to see the OCC Stained Gloss Lip Tars in person and just as expected, they are AWESOMEEEEE!


Like
the original Lip Tar
, the
Stained Gloss Lip Tar
is enriched with Castor Seed Oil, Hemp Oil, Peppermint Oil, Vitamin E and without Parabens, Sulfates and Phthalates. There are 6 colors available, including 5 wearable shades that are perfect for the summer and a neutralizing color.
Voyeur
is a bright yellow. It can be used to neutralize other colors or worn alone for a fun look.
Androgyne
is a bright cool-toned orange.
Jealous
is a vibrant red with just a touch of pink.
Meta
is a bright orange red and and almost identical to Jealous.
New Wave
is a neon pink.
Rhythm Box
is a dark cherry red.
The gel formula went on slightly runnier and left behind a lightweight, glossy finish that was more translucent and forgiving. One tiny drop gave intense color but you could blot it down for a stained look. I also find the formula to be slightly less drying compared to the original and I was able to get 2-3 hours of wear with one single application.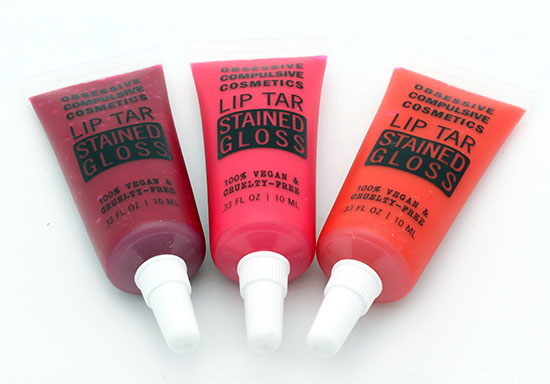 Are YOU liking the look of them?
OCC Stained Gloss Lip Tar is available exclusively at
Sephora.com
for $18.
Disclosure: This review includes products that were purchased by us. It may also contain an affiliate link, which gives us a small commission if you purchase the item. Please see our Disclosure for more information on our posting policy.