Fabric-inspired nail art is hot hot hot on the runway this fall. Case in point? The sexy lace nail look spotted at Emerson A/W 2013. Read on to see how New York City based nail artist Miss Pop created the look with ORLY!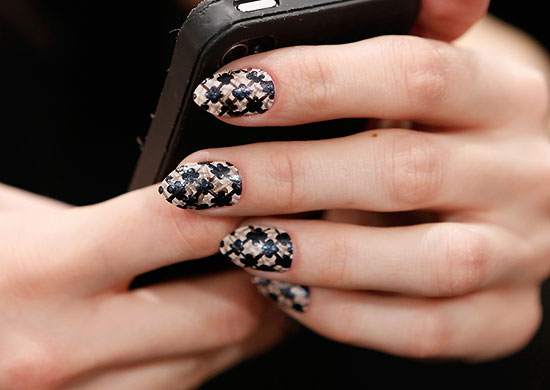 "For the models' nails, we wanted to design a look that was romantic, but a little dark and edgy too. And nothing is more sexy and chic than the beautiful lace from the Emerson Fall 2013 collection," said Miss Pop.
How To
Step 1. Apply one coat of ORLY BONDER Basecoat to nails.
Step 2. Paint two coats of ORLY Nail Lacquer in Pure Porcelain. Allow time for these nude coats to dry completely.
Step 3. Using the ORLY detailer brush, draw three diagonal lines from left to right. Then, draw three diagonal lines from right to left. This should create a crisscross pattern like fishnets across the nail.
Step 4. With the larger ball of the ORLY Dotter Duo tool, make four dots with ORLY Nail Lacquer in After Party at the intersection of each line to create florets.
Step 5. To create the intricate lacework detail, connect the dots using a swooping half-moon motion with the Detailer brush. Allow a few minutes for the look to dry.
Step 6. Top off this lace look with poliSHIELD for a lasting high shine finish and your nails ready for the runway… or a sexy rendezvous!
Image: Getty.