Fresh face paired with a harsh, dramatic 60's eye and sleek bun with a diagonal parting was the look at GUiSHEM Sprong 2012.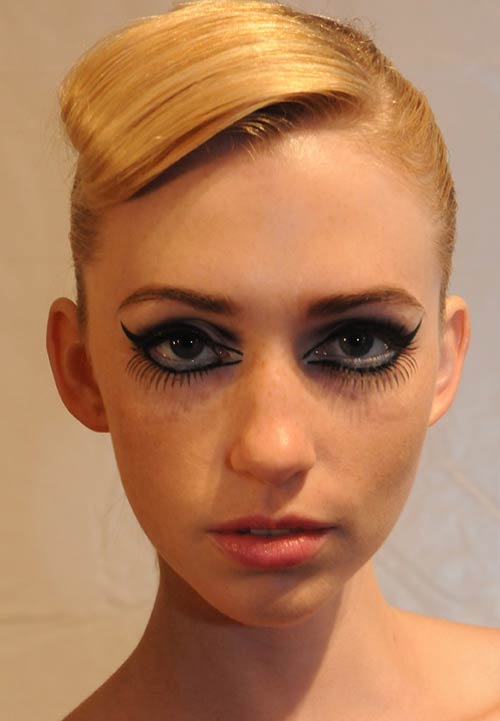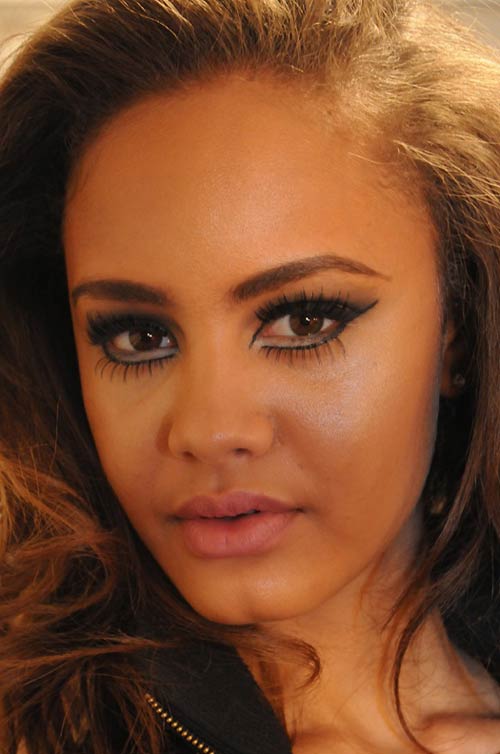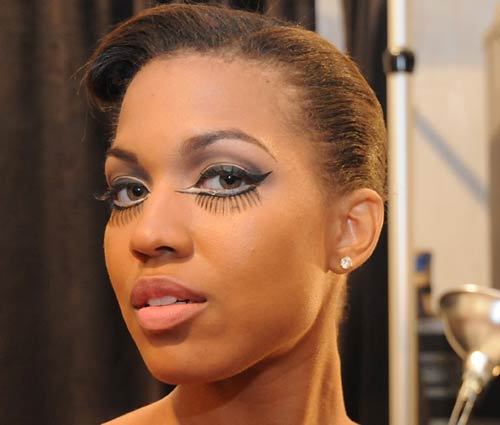 Makeup
Cory Bishop led the
Temptu Beauty
Creative Team applied AIRpod Foundation to perfect the complexion, achieving polished and smooth skin. Next, AIRpod Bronzer in Warm Glow was used to contour cheekbones and ample amounts of AIRpod Highlighter in Champagne applied to cheekbones, jawbones, down the center of the face and chin for a dewy finish.
To create drama in the eyes, Cory used a black kohl pencil to deepen the crease under the brow bone with a tight line before blending upward with PRO AIRpod Eyeshadow in Black to make the lid pop. Then, he lined the eye with liquid liner winging the end upward. He brought out the tear duct and rimmed the eye with a white kohl liner. He lined just below the lower lash line to make the eye appear more open and applied spikey false top and bottom lashes and a coat of black mascara for added intensity. He finished the eyes by defining and filling in brows with AIRpod Brow in Brunette (available Fall 2012)."
For the subtle flush of pink on the lips, Cory applied a light coat of Core Lipstick in Starstruck (available May 2012).
Hair
Rodney Cutler and his team of
Redken Salon
hairstylists created the hair in the following 5 steps:
Step 1. Apply Redken Full Sheer Straight 06 Lightweight Straightening Gel for Fine Hair onto hair and blow out with T3 Featherweight Luxe Dryer.
Step 2. Remove a diagonal parting from the left side of the head and secure the rest of the hair into a sleek ponytail sitting straight back at eye level.
Step 3. Twist ponytail into a bun and allow bit of the ends to sit out.
Step 4. With the top section pulled into the opposite direction (to the right), roll and pin at high recession.
Step 5. Finish with Redken Fashion Work 12 hairspray and smooth down hair to ensure no flyaways.
Photos: Courtesy of TEMPTU.