Earlier this month, I found a good use for my $15 off Sephora gift card and picked up Philosophy Hope For the Best 3-in-1 Skincare Set. The set contains a 4 oz Purity Made Simple, 1 oz Hope In A Jar and 0.25 oz Eye Hope.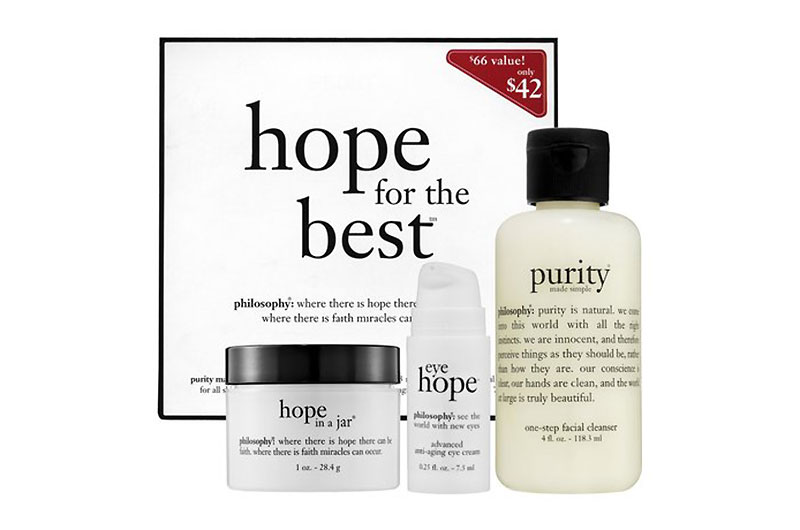 Purity Made Simple
is a cream cleanser with a "ph-balanced formula that rapidly dissolves dirt and makeup while deep cleaning pores". It has a soft, creamy texture and the "infusions of sage, chamomile, and carrot" gives it a nice scent. At first, I was a little skeptical at its effectiveness in removing makeup. Cream cleansers, while gentle on the skin, have always been a complete fail in removing makeup for me but Purity Made Simple totally changed this! Not only does it remove all of my makeup – including my high coverage Make Up For Ever HD Invisible Cover Foundation – it does so without over-drying the skin. My skin is left feeling soft, smooth and clean! Loves!
Hope In A Jar
is one of the best-selling products from Philosophy and was originally created for the medical market. It contains antioxidants and yeast-derived beta glucan to "gently hydrate, exfoliate and protect the skin against environmental damage". The cream looks semi-thick in the jar but once you apply onto the skin, it feels really light and sinks in right away. I have yet to see any drastic changes but this has definitely kept my face smooth, flake-free and glowy. Plus it makes the perfect base for foundation and my face stays hydrated all day!
My only complaints? The smell – which apparently is a common rant for other people – and the jar container. Other than that, this product is awesome!
Eye Hope
is a new eye cream that also contains beta glucan and age-fighting counterparts to "diminish dark circles, reduce puffiness and minimize the appearance of fine lines and wrinkles". It has a nice, blendable texture so a little goes a long way. It also gets absorbed into my skin within minutes. I'm not sure if it is doing anything for my circles but it works great in deflating puffiness – I can actually feel a tightening effect around my eyes when I put this! I only wish this was slightly more hydrating for those extra dry days.
Overall, I'm really glad I got the set. It is a great deal for 3 awesome products and I highly recommend it for those with normal to dry skin.
Disclosure: This review contains product that was purchased by us. It may also contain an affiliate link, which gives us a small commission if you purchase the item. Please see our Disclosure for more information on our posting policy.