After Gillette's vibrating razor comes Dove's vibrating facial massager, the SkinVitalizer ($10)! This AA battery-operated massager uses disposable pillows to scrub away makeup, oil and dirt, stimulate surface skin renewal and improve clarity for smooth, radiant skin. The product was originally released in 2006 but was recalled after several reports of the pillow falling off and causing minor scratches to the skin.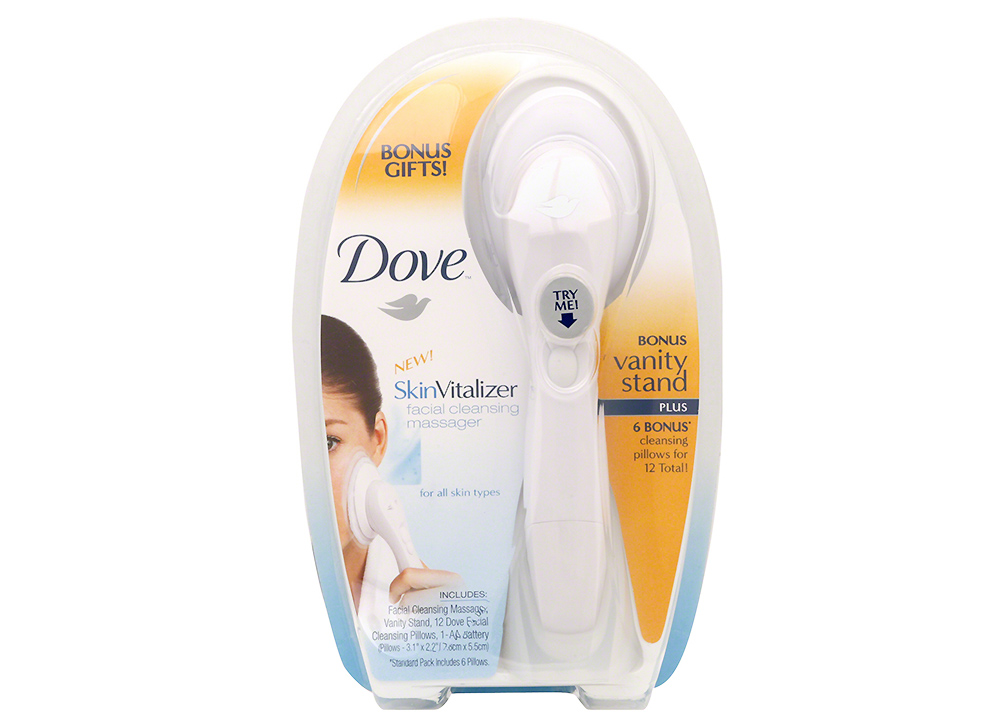 The product I am reviewing now is the redesigned version which was released back in the market earlier this year. Unlike the old version which used hooks, the new version uses a soft Velcro-like material to secure the pillow in place. To use the device, all you have to do is attach a pillow onto the massager, run it under warm water to lather it up, turn it on then massage away. Each pillow comes with a smoother patterned side for gentle cleansing and a rougher textured side to enhance exfoliation. There are also two kinds of pillows to choose from, Gentle Exfoliating and Energy Glow. Both work great but Energy Glow is formulated for maturing skin and has energy-rich moisturizers to help brighten and smooth skin.
I have been using this for almost a week now and I am pretty impressed by how it cleans my face. My rough patches are gone and my face just feels squeaky clean. One thing I do not like, however, is the instructions. When I first started using it, I had trouble making the pillow lather. I ran both sides of the pillow under warm water and even rubbed it a little but it was still barely foamy. I looked through the instructions at least twice to make sure I did not miss anything but there was nothing on there that could help. Also, it did not tell users how long they should scrub their faces for and how often they could use the device. I ended up having to do some research online myself to find answers to these questions.
Another thing is you do have to refill the pillows fairly often and the refills cost $5 for a box of 14. If you do the math, you will be spending roughly $10-11 a month when a similar priced cleanser can last you at least another month or two.
All in all, this is a fun product to use and I would recommend it if you are into beauty gadgets. Just be extra careful if you have dry or sensitive skin because this does have the tendency to overclean your face and dry it out.