At Zac Posen Spring/Summer 2015, the beauty focus was healthy, glowing skin paired with subtle glossy eyes, graphic red lips and a glossy feminine pompadour.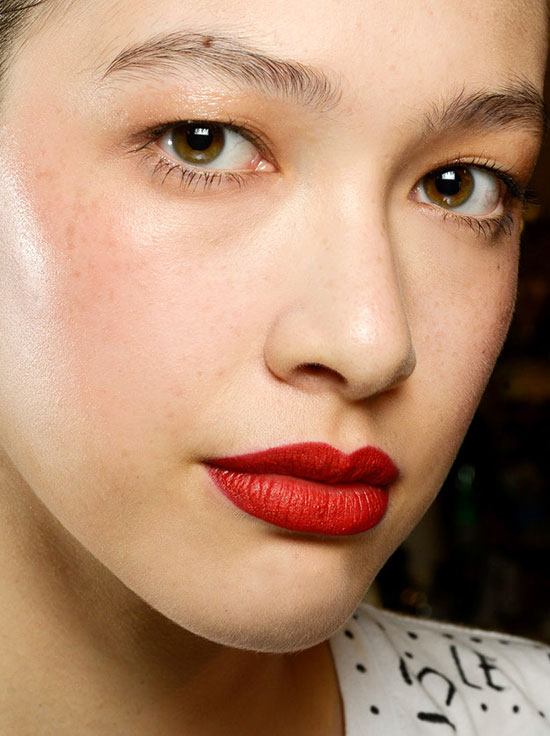 Makeup
: Kabuki for M·A·C Cosmetics
Hair
: Odile Gilbert for Kérastase Paris
"Simplicity is its strength, which fits with mood of this season's collection." Explained key make-up artist Kabuki. He first toned the skin with witch-hazel to get the skin very clean. Then, he applied a diffusing clear primer all over and a very sheer layer of Face & Body Foundation in warmer tones around the outside of the face and across the nose and cheeks. A bit of Something Special Crèmeblend Blush was used to heighten the translucent, sun-kissed look of the skin while Shine Mixing Medium added for an athletic glow on the top of the cheekbone. Any blemishes or discolorations showing through were hidden with Studio Finish Concealer applied with a tiny brush. A peach-toned concealer was used to brighten the under-eye area.
On the eyes, Groundwork Paint Pot was applied as a sheer layer to shape and lightly sculpt. M·A·C PRO Gloss Texture and M·A·C PRO Reflects Pearl Glitter were mixed together and swept over the eye for added dimension and shine while top and bottom lashes were coated with two coats of Haute & Naughty Black Lash Mascara.
To create the bold pout, Kabuki filled in the lips with Cherry Lip Pencil to enhance the natural lip shape before adding Red Lip Mix over the pencil for a deep orangy/red, semi-matte finish.
On dry hair, Gilbert created a deep side part and put an ample amount of Forme Fatale on the top and sides of the head for an ultra-glossy look. Using a small tooth comb, she combed the sides in an upwards motion, tight against the head and worked in more Forme Fatale. She added Lift Vertige to the front section for volume, and combed in an upward swoop to create a modern push wave, using the tail of the comb to detail the look. Next, she blow dried the push wave to set the style and applied Kératine Thermique throughout the rest of the lengths to create a shiny, wet look. Finally, she locked the style in place with Laque Noire.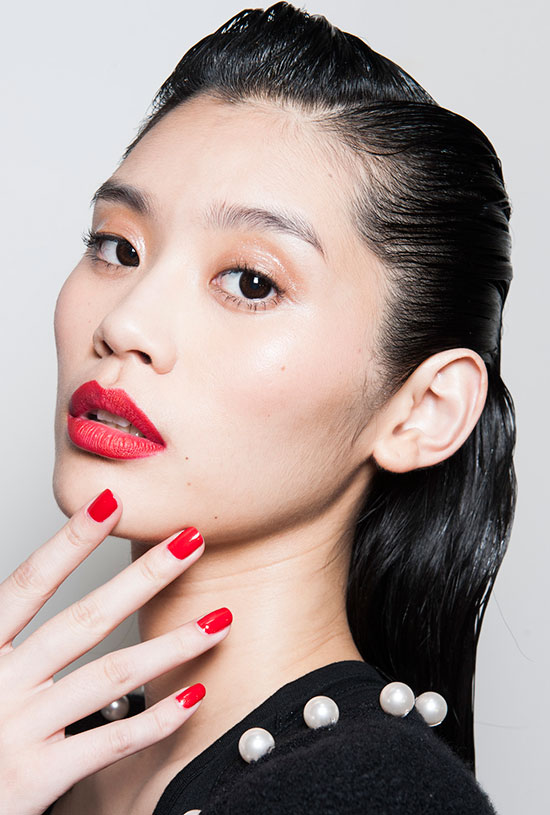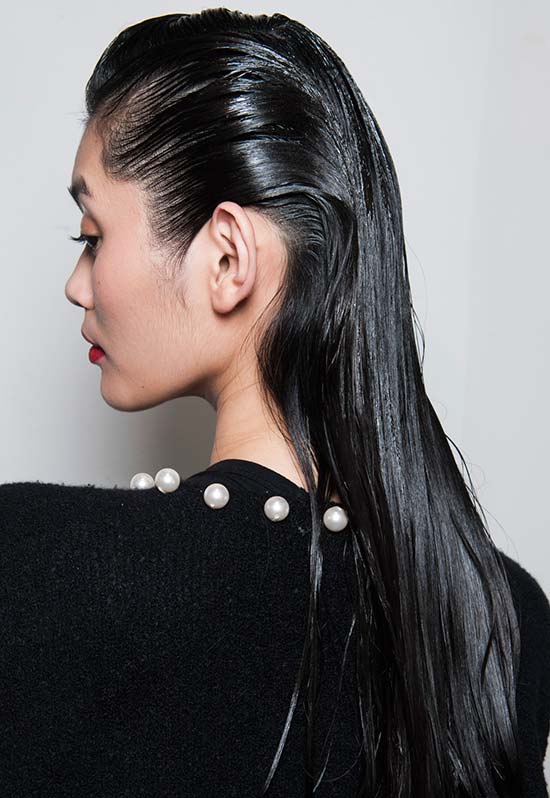 Images: Courtesy of M·A·C Cosmetics and Kerastase.