At Naeem Khan Spring/Summer 2014, the look was inspired by Frida Kahlo and centered around luminous skin with a diffused raspberry stained lip and "tough-girl" braids.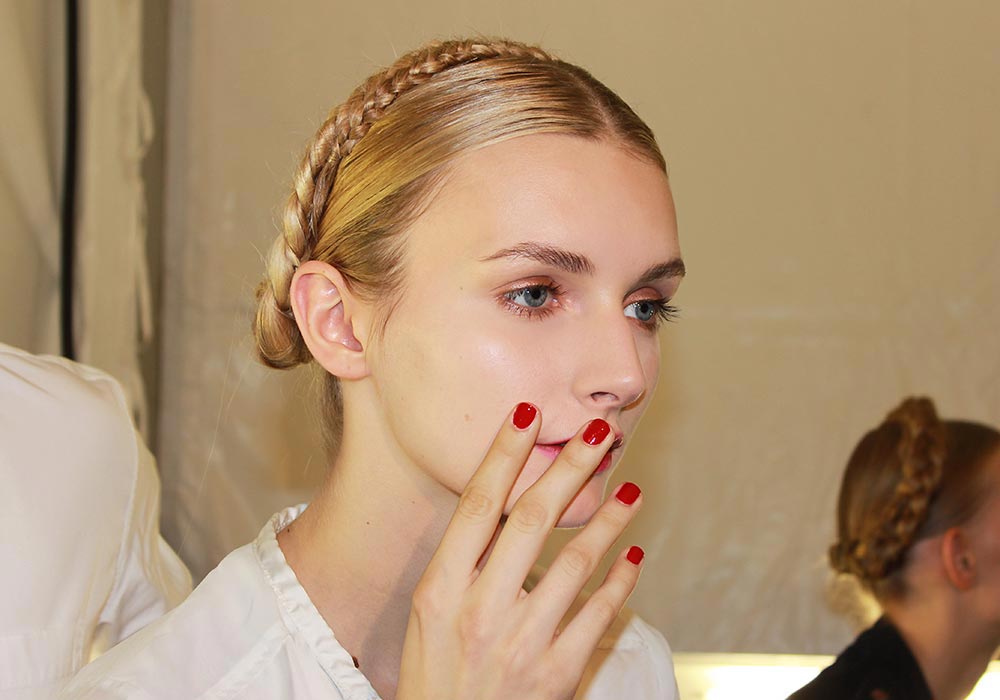 "The starting point of the inspiration was Frida Kahlo, but we didn't want the makeup to be a literal interpretation," explained NARS Director of Global Artistry, James Boehmer. "We wanted the girls to look a little more undone and casual… not too groomed."
To create the gorgeous skin we see here, James started by massaging models' skin with NARSSkin products. He used minimal amount of Sheer Glow Foundation to even out skin and Radiant Creamy Concealer only on problem areas. To keep the look dewy, he only set the center of the face with very little Loose Powder.
On the eyes, James started with South Beach Multiple on the eyelid and bottom lid to create a round shape. Next, he layered Corfu Cream Eyeshadow on the eyelid, closer to the lash line. He blended off edges with Light Reflecting Loose Setting Powder before adding Lola Lola Single Eyeshadow, a chocolate shimmer, for depth by pressing it into the upper lashline and on the bottom by laying it on top of the lashes. Mascara was used on top and bottom lashes for definition while the eyebrows were coated with a Oural Brow Gel, a clear color.
For the gorgeous statement lip, James used Hyde Park and Yu Satin Lip Pencils. He started with the deeper color (Hyde Park) on the center then used his finger (or a lip brush) to smooth out the color to the edges before adding a bit of Light Reflecting Loose Setting Powder. Next, he did the same thing with Yu, the brighter color, on top before adding another coat of Hyde Park over it. He finished by blending everything with his fingers for a stained look.
On the fingers, models were given coats of essie A list, a red that went with every single red that appeared in the collection. The toes were kept simple with two coats of essie Sugar Daddy for a clean and fresh look.
Hairstylist
Sally Hershberger
wanted a juxtaposition between strong and feminine so she paired a "tough-girl, super slick and strong center part" with a softer braid. She used extensions for length before putting them into two low ponytails, braided them then wrapped them towards the crown. She kept the texture of the braids dry, but added shine to the front with Sally Hershberger Salon Smooth Fix Styling Spray.