This fall, NARS Cosmetics revamps its skincare line to bring us 10 paraben-free, alcohol-free and synthetic fragrance-free products that use light to transform the skin.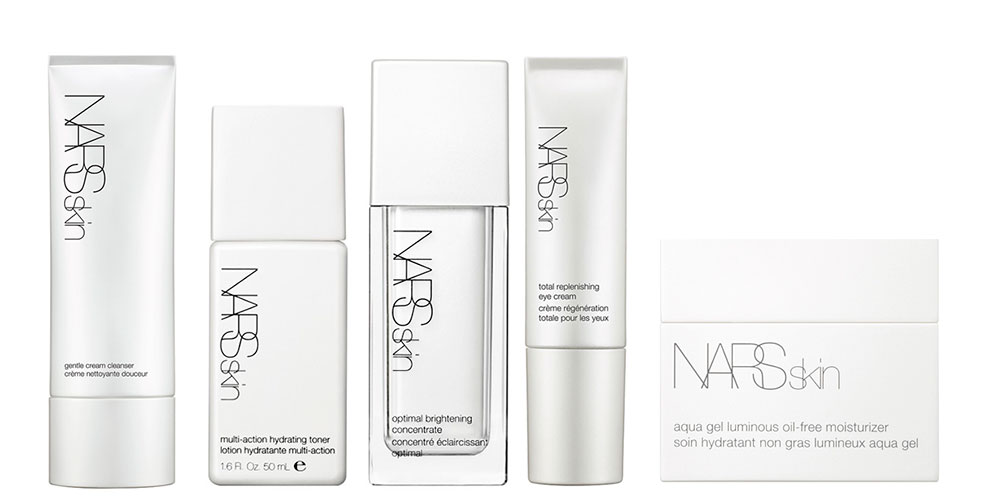 The new NARSskin line is formulated with a unique Light Reflecting Complex along with Light-Active Micro-Prisms, algae extract, Polynesian seawater to optically enhance light reflection, promote natural cellular turnover and infuse skin with moisture. It comes in a glossy white packaging that is more user-friendly and easier to clean. Prices range from $29 to $72 as supposed to the previous $36 to $105, although some products are now more expensive per oz.
Gentle Cream Cleanser ($29 for 4.2 oz) is an improved version of the same product. It contains Monoi Oil, Wild Rose Extract and Chamomile to maintain the skin's moisturize balance while removing makeup and impurities. While it left my skin feeling soft and hydrated, it failed to remove all my foundation and concealer on its own. I save this for au naturale/light makeup days.
Multi-Action Hydrating Toner ($32 for 6.7 oz) is a new toner that contains Wild Rose Extract to hydrate, smoothe and brighten the complexion while helping to promote the benefits of serums and moisturizers that follow. Unlike my favorite SK-II Facial Treatment Essence and Kose Sekkisei Lotion, this has a slightly heavier and almost gel-like texture that gets absorbed into the skin instantly with no greasiness. It makes my skin uber smooth and ever since I started using this, I have not see a single flake. Definitely a new HG!
Optimal Brightening Concentrate ($72 for 1 oz) is an improved version of the Brightening Serum. It is infused with Noni Fruit Extract, Yeast Polysaccharides and Vitamin C to improve micro-circulation, prevent the appearance of hyper-pigmentation, boost cellular energy and illuminate the complexion. Compared to the Brightening Serum, it feels a bit more lightweight and the brightening effect is WAY more effective. I saw a difference in my skin tone in just a week and the cluster of pigmentation on my right cheek has faded a bit too! It also has this pearlescent finish and you can mix it with liquid foundation for a dewy finish, just like the old serum. Another HG!
Total Replenishing Eye Cream ($55 for 0.52 oz) is a new eye cream that contains Hyaluronic Acid, Beech Bud Extract and a combination of peptides to hydrate, fade the appearance of dark undereye circles, reduce puffiness and stimulate skin's natural production of collagen. It sinks into the skin quickly and works great under concealer and foundation. I have not noticed a difference in my undereye circles just yet but my undereye area definitely feels more toned and hydrated.
Aqua Gel Luminous Oil-Free Moisturizer ($58 for 1.7 oz) is a spinoff of my favorite Aqua Gel Hydrator. It is enriched with Dynamic Aqua Technology to improve water retention so that skin becomes supple and fine lines and wrinkles noticeably softened. It has a light, gel-like texture just like the original and my dehydrated combo skin just soaks everything right up and is left feeling super soft and smooth. And that trick where you mix equal parts of Aqua Gel with your foundation for a dewy finish even famed makeup artist Zing swears by? Works just as well with this!
Overall, I am really loving the new NARSskin skincare line. Make sure you check out the Multi-Action Hydrating Toner and Optimal Brightening Concentrate!
The new NARSskin skincare line is available at narscosmetics.com and will replace the previous line completely by the beginning of September.
Disclosure: This review includes products that were provided by the manufacturer/PR firm for consideration only. It may also contain an affiliate link, which gives us a small commission if you purchase the item. Please see our Disclosure for more information on our posting policy.