With bridal season coming up, take a cue from Talia Shobrook, lead makeup artist for the Marchesa Bridal Spring 2013 runway show, on how to create a look that is whimsical, effervescent and totally wearable.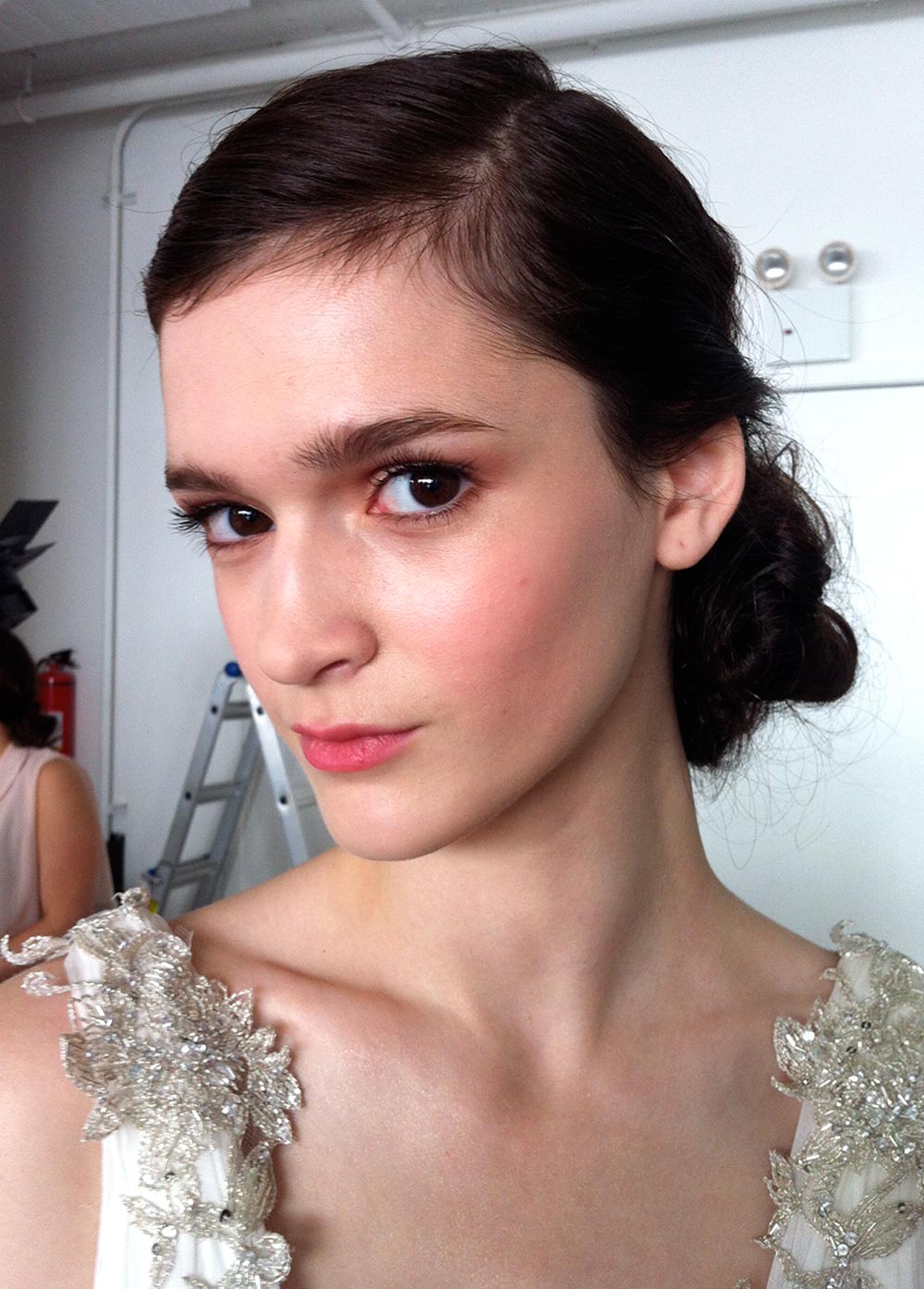 Face
"Flawless skin with a fresh and dewy finish was the foundation of the look", said Shobrook. First, she mixed Laura Mercier Mega-Moisturizer Crème SPF 15 with Laura Mercier Foundation Primer Radiance to add a subtle glow to the skin. She then covered under eye circles with Laura Mercier Secret Concealer and covered any spots or redness with Laura Mercier Secret Camouflage. Next, she applied Laura Mercier Silk Crème Foundation to the face. Lastly, she used Laura Mercier Invisible Loose Setting Powder in the T-zone, for control shine, leaving the rest of the skin dewy and fresh.
Eyes
To highlight the eye and add to the allure that a bride's sparkling eyes have on her wedding day, Talia mixed Laura Mercier Sateen Eye Colours Stellar and Primrose and applied them on the lid from lashline to the crease. Next, she softly contoured the crease with Laura Mercier Matte Eye Colour in Fresco. Using Laura Mercier Baked Eye Colour in Ballet Pink, she dipped Laura Mercier Fine Point Eye Liner Brush into water and swirled around the Eye Colour to pick up the product, then drew a line across the lashline, with a slight flick at the outer corner. The eyeliner should be thin and bright. On the lower lashline, she used Laura Mercier Flat Eye Liner Brush to apply Laura Mercier Matte Eye Colour in Truffle just at the lashline and blended slightly to soften. Lastly, she finished with a layer of Laura Mercier Long Lash Mascara and another layer of Laura Mercier Full Blown Volume Lash Building Mascara to the lashes in the center of the eye.
Lips and Cheeks
"By using the same product on the eyes and lips, we allow the fresh-faced bride to only have to carry one product for touch-ups. The creamy formula adds a lovely natural flush to the face," Shobrook concluded.
On the cheeks, Talia applied Laura Mercier Crème Smooth Lip Colour in Mango (launching September 2012) to the apples of the cheeks and blended to give a natural flush in the face. The result is a creamy smooth natural cheek color. The look was finished with the same color blended onto the lips as well.
Images: Courtesy of Laura Mercier.