After last season's toughness and androgyny, Spring/Summer 2012 heralds the revival of an altogether more feminine and sensual approach to makeup.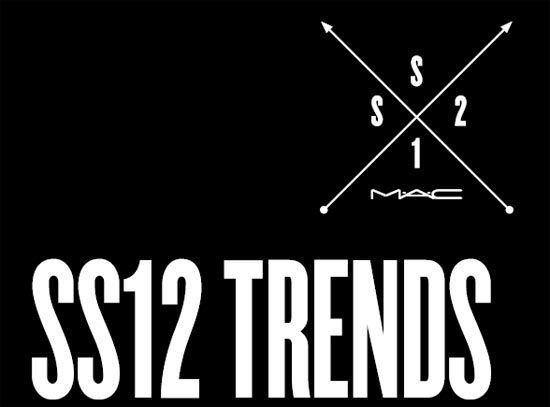 #1 Ath-elite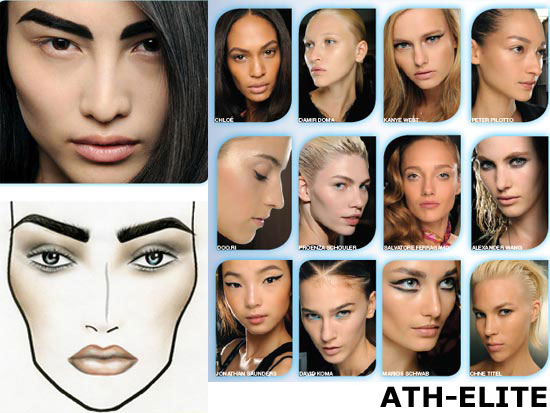 It's athletic yet chic… plumped and pumped…wet-effect and maxed with moisture. Skin this season is all about a dewy, sporty, spa-fresh feel.
It's near to naked but certainly not raw – the new complexion is about perfection that's elite in its amplification of health and hydration: a focus on skincare and plenty of 'pre and post production' on base is essential.
"This is a beautiful, glowing, no-makeup look with a more sporty and real feel to it than we've seen in the past. There's definitely nothing relevant about a full-coverage base this season," confirms Diane Kendal, doyenne of an 'apparently effortless' nude look. "Take a heavy foundation and add all these wet highlights and it goes into 'alien' territory," agrees Sam Bryant. "You want base to look perfect, but still very sheer and youthful."
How to achieve it? "It's all about what you put underneath or on top of a foundation now," explains Terry Barber. "Priming it, spritzing it, buffing it, moisturizing it and massaging it to give it a super hydrated feel."
Highlights and gloss are back in a big way, too. "We're quasi not powdering at all this season…or, if we are, there are so many wet highlights added that the effect is still utterly about sporty, plump skin," says Lyne Desnoyers. Cue a rise in highlighting with imperceptible flesh – akin Metal X tones and skin-twin shades of Cream Colour Base, which retain a real skin quality superior to the more synthetic effect of Gloss Texture. "Think of it as hyper-highlighting," says Terry Barber.
While a sportive skin is the canvas, a streamlined detail matters too. Add an energetic strength and sophistication to the look with a full (but not heavy or masculine) straighter, squarer brow that's deepened without being drawn-in. Or think linear on the eye, adding structure and dimension to the face with a gesture of liner.
Stripped back to its main message, this is a trend for simply great, super desirable skin. Prep + Prime yourself!
Create The Look
• Prep + Prime Skin Compact
• Chromographic Pencil in NC15 – NW25
• Mixing Medium Shine
• Mineralize Charged Gel Emulsion
• Care Blends Essential Oils
• Studio Sculpt SPF15 Foundation
• Mineralize Skinfinish Natural
• Fusion Gold Metal-X Cream Eye Shadow
• Palladium Metal-X Cream Eye Shadow
• Boldly Bare Lip Pencil
• Fling Eye Brows
• Mink Eye Brows
• Beguile Brow Set
• Clear Brow Set
• Mid-tone Sepia Cream Colour Base
• M·A·C PRO Bone Beige Sculpting Powder
• Luna Cream Colour Base
• Pearl Cream Colour Base
• M·A·C PROGloss Texture Story
• Boot Black Liquid Liner
• Blacktrack Fluidline
• Smolder Eye Kohl
• Fix+ Spray
• Lip Conditioner SPF 15
• Clear Lipglass
• Dim Lip Erase
• Hush, Hush Tendertone Lip Balm SPF 12T
#2 Ore-inspired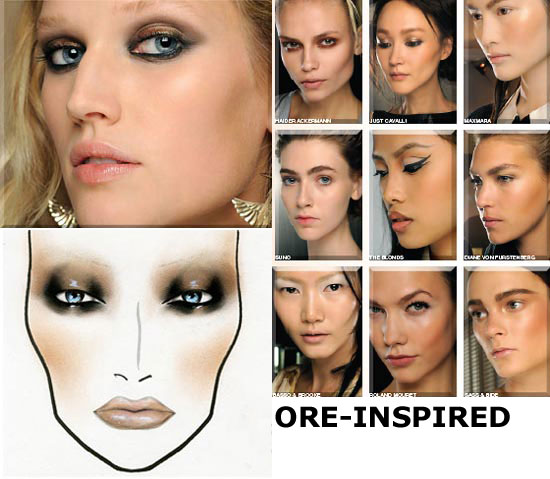 Every summer begs the inevitable beauty question: tan-chic, or not? Or, more precisely: what treatment of warmth feels appropriate for the warm season now?
For Spring/Summer 2012, it's certainly not about a desert tan, even though the looks reference a worldly, well-travelled woman. In fact, it's less about warming up the complexion itself and more about using tan-relevant and tan-related shades to accentuate the lips, cheeks and eyes.
Palette-wise, think metallic, creamy copper, rust, terracotta and peach, and sideline anything that's traditionally flat, matte and brown-based. An element of reflection and heat is the key update to make on tan tones for S/S2012. "Tan shades with a metallic edge have a preciousness and sophistication," confirms Lyne Desnoyers. "Their inherent light-reflective nature ensures they never draw lines on the face in the same way as flat colour, making them appear immediately chic and flattering."
The focus is on the features, yet the skin is still the ultimate canvas for these looks. Go easy on base and build in an athletic bone structure with metallic highlights that create what Terry Barber is calling 'Olympian cheekbones.' "Now cheekbones are very beautiful and not so masculine as we've seen in the past. We're using a lot of Metal-X in Fusion Gold or Cream Colour Base in Shell on top of them – an extreme highlight takes away the need to contour," he explains.
Add something of a burnished eye or an earth or sand-toned lip and you're good to go. Wisely warm and not a hint of WAG…
Create The Look
• Venetian Tarnish Metal-X Cream Shadow
• Rusty Metal-X Cream Shadow
• Fusion Gold Metal-X Cream Shadow
• Reflects Gold Glitter
• Constructivist Paint Pot
• Teddy Eye Kohl
• Modern Mandarin Blush
• Groundwork Paint Pot
• M·A·C PRO Bronze Cream Colour Base
• Vintage Coin Metal-X Cream Shadow
• Coconutty Lipstick
• Cup of Joe Cream Eye Shadow
• Coppering Eye Shadow
• M·A·C PRO Dusk Cream Colour Base
• Cream Colour Base in Improper Copper
• M·A·C PRO Caramel and Terracotta
• Studio Finish Skin Corrector
• Coquette Eye Shadow
• Freckletone Lipstick
• Fresh Brew Lipstick
#3 Nouv-eau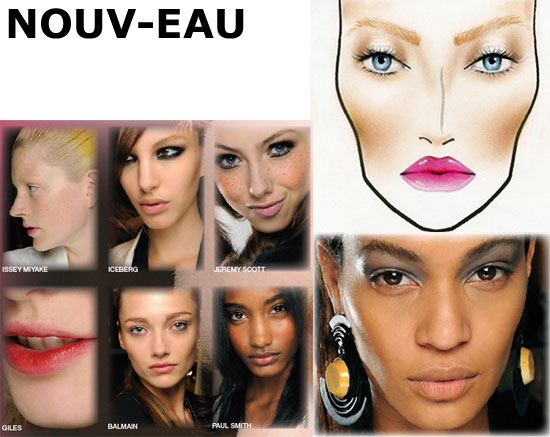 From the romance, nature-inspired shades, sinuous shapes and sensitive colouring of Art Nouveau, to the delicate side of 1920's glamour, the soft side of the season is all about tinting the skin with washes of colour.
Veering between the pretty and pure and something more glamorously edged, these looks are less about recreating a retro look from the past and more about reinterpreting femininity by capturing the spirit of an era.
While lips and cheeks get a look-in with stains of fondant-y peach, apricot and strawberry tones, it's a trend that's essentially eye driven. Lids and lower lashlines enlivened with diffuse, single-toned watercolour washes of pastels and flesh tones through to mink and rubs of charcoal. "What really feels contemporary is a colour that's washed all the way up to the eyebrow, without any shading and highlighting in it," adds Terry Barber, noting that structured shading and multi-tones would fast turn these colours in a bridesmaid-y direction. "The edges are still beautifully blurred so that the effect isn't Pop Art" he adds.
The kit? "Second-skin texture powders and creams and bigger brushes," explains Lyne Desnoyers. "A larger brush gives a looseness to the application, which is key." You'll likely want to forgo mascara too – there's still an enduring appeal to a mascara-less lash this season, now a mainstay in the beauty lexicon of modernizing a look.
It's sensual, ultra feminine, fluid and refined without being sugary or cute: pared back pretty at it's best…
Create The Look
• Kid Eye Shadow
• Moleskin Eye Shadow
• Copperplate Eye Shadow
• Smolder Eye Kohl
• Air Force Blue Cream Colour Base
• Scene Eye Shadow
• Immortal Flower Powder Blush
• Lovecloud Powder Blush
• Fleur Power Powder Blush
• Silver Dusk Iridescent Powder/Loose
• Shell Cream Colour Base
• Constructivist Paint Pot
• Bamboo Cream Colour Base
• Scarlet Ibis Lipstick
• Burgundy Lip Pencil
• Mouth Off Lip Pencil
• Lady Danger Lipstick
• Flamingo Lipstick
• Hot N'Saucy Tendertone Lip Balm
#4 Neo-n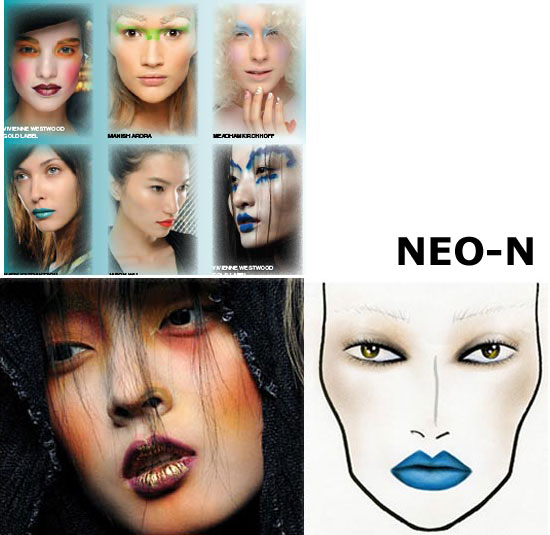 Graffiti inspired. Dynamic. Stripped back. Ultimately urban…this season goes faster with punchy, sportive colours setting the stopwatch on fashion and beauty alike…
Gorgeous, not grittily graffiti-esque, it's about wearing neoprene colour against plump, workout-fresh skin and an aerodynamic brow in an effortlessly chic, considered way. A move on from the aggressively hard-hitting, stamped-on brights of last summer, the new sophisticated athleticism of this season's fuelled-up shades is about giving the face a beautiful detail rather than a fierce shock of colour.
While they tap into the trend for energetically engineered, high-tech (and high colour, high print, high shine…) fabric that is so omnipresent this season, the new bright beauty statements of S/S2012 have a subtlety to their statements. Yes, these scuba shades are striking, but they're never stamped on or harsh…
Think touchable and sensual…intelligent and singular…pure colour but not Pop Art…desirable not Disco…and don't work too hard at it. If it looks like you've simply swiped on a strong lip on your way back from the gym, you've pretty much nailed it…
Create The Look
• M·A·C PRO Red Lipmix
• M·A·C PRO Orange Lipmix
• M·A·C PRO Process Magenta Chromagraphic Pencil
• M·A·C PRO Acid Orange Pigment
• M·A·C PRO Electric Coral Pigment
• M·A·C PRO Chartreuse Pigment
• M·A·C PRO Process Magenta Paint Stick
• M·A·C PRO Genuine Orange Paint Stick
• Marine Ultra Chromagraphic Pencil
• Rich Purple Chromagraphic Pencil
• Florida Cremeblend Blush
• Optimistic Orange Cremeblend Blush
• Pink Pigeon Lipstick
• Flamingo Lipstick
See
more Spring/Summer 2012 runway looks
!