Need Halloween makeup ideas? Check out the following makeup tutorial by British makeup artist Kabuki on how to create a purple and black Spider Woman Halloween makeup look that is scarily beautiful.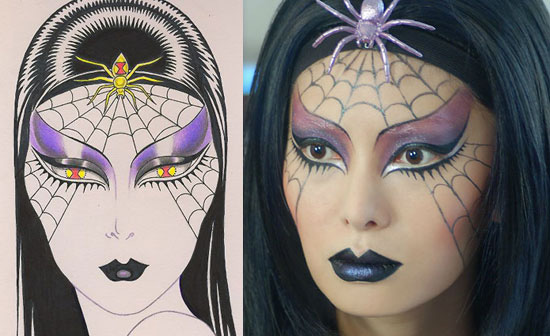 Step 1.Prep The Face
Start by smoothing down eyebrows by rubbing a glue stick over them. Apply myface.cosmetics mymix foundation all over the face, including the brows. Put concealer wherever needed, and set with powder.
Step 2. Create the brow and eyes
Use myface.cosmetics high def eye pencil in Violet to trace the line of the eyebrow that you want to create, starting at the top inner corner of the brow and winging out to the temples. Use the same pencil to sketch the lower eyeliner shape and also an outline for the upper liner that will cover the whole upper lid. Fill in the space between the eyebrow and the lid liner with myface.cosmetics Purple Haze blingtone. Apply with a finger and blend outwards at the inner corners of the eye. Then draw a graceful eyebrow using myface.cosmetics slinky liquid liner following the guideline you have already established.
Next, use the same slinky liquid liner to fill in the bottom eye liner and the top eyelid, following the pencil guideline.
Add a dab of myface.cosmetics Diamonds & Pearls blingtone in the space between the lower and upper liner for brightness. Use the two purple eyeshadows in myface.cosmetics Purple Haze eyetouch trio to create depth, shading the blingtone into the top eyeliner.
Step 3. Sculpt the cheekbones
Sculpt the cheekbones with a strong blush color, myface.cosmetics R&B rouge/blusher in Paradiso Pink, following the upward sweep of the eye make-up.
Step 4: The web effect
To create a guide for the thin lines of the web, coat the edge of a piece of cardstock with the slinky and make an impression of the line on your face. Start with the inner lines and work outwards.
Step 5: The Spider lips
Put concealer around the corners and cupid's bow of the lip and set with powder. Draw the shape of the lip with the high def eye pencil creating a sharp V-shape in the center of the top lip and fill in the whole lip shape with pencil. Perfect the lip line with black liquid liner. Dot a little myface.cosmetics Purple Haze or Diamonds & Pearls blingtone in the center of the lower lip as a metallic highlight.
myface.cosmetics is available at Boots in the UK and internationally at
www.myfacecosmetics.com
.