Inspired by the Spanish Harlem look of the Missoni Spring/Summer 2012 collection, makeup artist Lucia Pieroni working for M·A·C Cosmetics gave models "sexy, sweaty flamenco skin with a focus on brows" while Wella Professionals' Global Creative Director, Eugene Souleiman, created a disheveled bun with a side-part.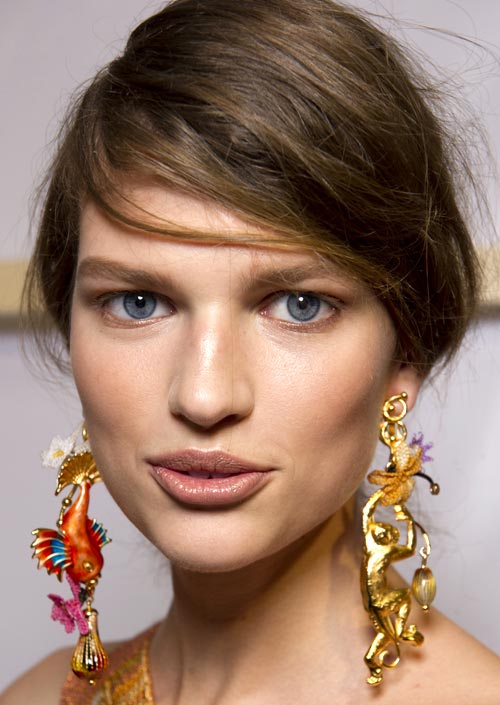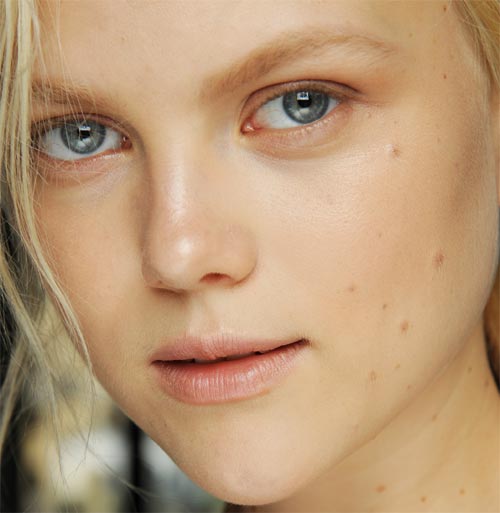 Face
• Face & Body Foundation – lightly applied to perfect skin.
• Fusion Gold Metal X Cream Shadow (available Spring/Summer 2012) – blended over upper cheekbones, bridge of nose and chin to mimic hot, sweaty skin.
• Groundwork Paint Pot – blended under the apples of cheeks with 188 Small Duo Fibre Face Brush.
• Fix + – misted onto sides of the face at line up.
Eyes
• Groundwork Paint Pot – blended around the entire eye for a shadowed effect.
• Coffee Eye Pencil – applied through the waterline for depth.
• Coquette and Copperplate Eye Shadow – used with 239 Eye Shader Brush to create full brows.
Lip
• Freckletone and Fresh Brew Lipstick – pressed into the lips with fingers.
Hair
"I wanted to create tension between the hair and the clothing, to inject it with a rawness that would capture the passion and sensuality of a beautiful young Missoni woman at the end of a hot summer night. So I took the idea of a traditional, slick Spanish look with a perfect side-parting and hair smoothed back over the ears and sculpted into a neat bun, and deconstructed it to create a "roughed up", disheveled effect and a slightly dirtier end-of-the-night texture." said Eugene.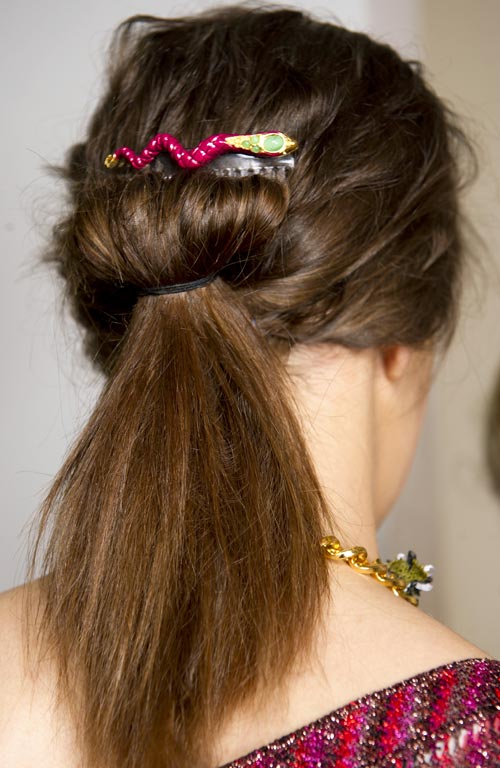 Step 1. Start with freshly washed and conditioned hair using Wella Professionals Enrich Shampoo and Conditioner, and apply Wella Professionals Velvet Amplifier to wet hair before blow drying hair straight and smooth using a round brush, without creating volume. For hair in need of an extra moisturizing boost, like that of models at Fashion Week, try using Wella Professionals Enrich Moisturizing Treatment once a week.
Step 2. Rub Wella Professionals Rugged Fix Matte Molding Crème between your palms and fingers and squash into the roots of your hair all over to create a slightly matted textured effect.
Step 3. Next, apply Wella Professionals Flowing Form Smoothing Balm to set the natural movement and texture, blasting the roots with a hairdryer to help absorb the product making it invisible.
Step 4. Although the end look is slightly disheveled it's important to start with a neat side-parting, so use a sectioning comb to create this before using your hands to pull the hair back roughly into a ponytail at the nape of the neck, covering the ears. Don't worry if the hair is not perfectly smooth as the beauty of this look is in the imperfection. In fact, if you massage the hair with your fingers to create more volume and texture, this will add to the overall look.
Photos: Courtesy of MAC And Wella Professionals.