Growing up in Hong Kong, Aburatorigami, also known as oil-blotting papers to most of us, have been a life-saver for me for longer than I can remember. But it wasn't until recently that I discovered the story behind this Asian beauty staple and found my HG, TATCHA Aburatorigami.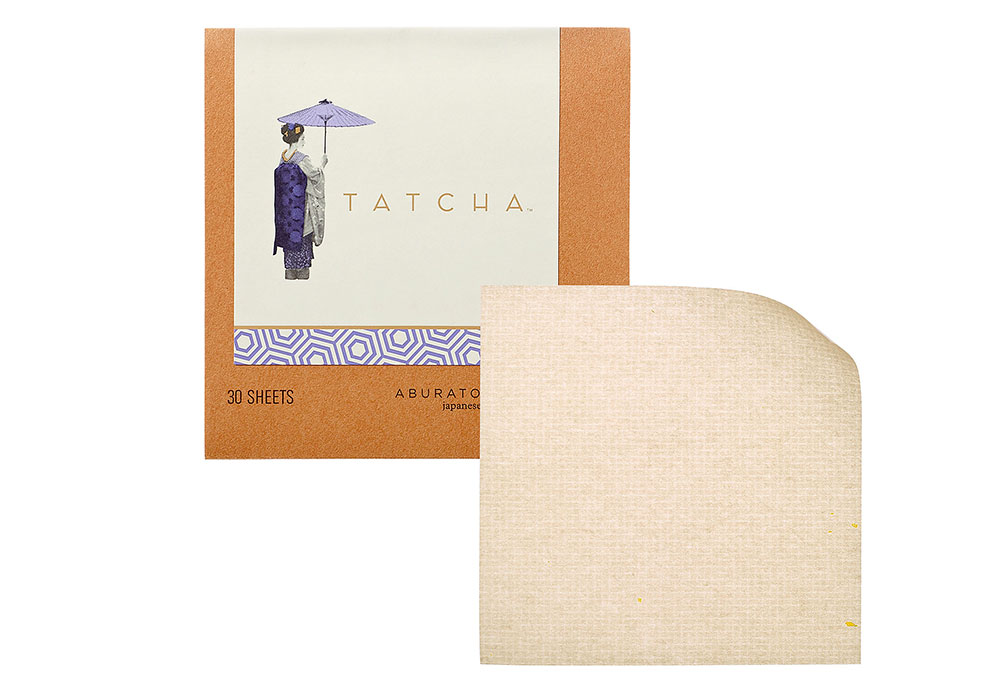 TATCHA Aburatorigami is truly the
cream of the crop
among blotting papers. It is handmade in Japan with 100% abaca leaf and comes in a fancy paper packet with 30 sheets.
Each sheet measures roughly 3.75 inches by 3.75 inches and is slightly bigger than most blotting papers but perfect for the whole face. It is super thin and soft yet the lattice line makes it more durable than your regular Japanese oil blotting papers. There are also tiny gold flakes just like the traditional Aburatorigami, which by the way, is originally the by-product from artisans hammering gold into thin leaves to decorate the pavilions of Imperial Japan (who would have known?)
Unlike the plastic blotting papers like Clean and Clear Oil Absorbing Sheets, the TATCHA blotting papers do not soak up excess oil (which can sometimes lead to more oil being produced). Nor do they contain talc powder like the famous Papier Poudré Oil Blotting Papers from England, so they will never dry up your skin or leave behind a powdery, chalky finish. They simply get the job done quickly and effectively without ruining your makeup or irritating the skin.
Plus how can you not love that it is all-natural and biodegradable? Now I will can never go back to regular blotting papers!
TATCHA Aburatorigami is now available at http://www.tatcha.com/. Prices are $12 for a pack or $30 for 3.
Disclosure: This review includes product that was provided by the manufacturer/PR firm for consideration only. It may also contain an affiliate link, which gives us a small commission if you purchase the item. Please see our Disclosure for more information on our posting policy.