Besides the gorgeous Garden Roses, I also picked up Dior Garden Pastels 5-Couleurs Eyeshadow Palette from the Spring 2012 Garden Party Collection.
Just like Garden Roses, Garden Pastels comes in Dior's signature glossy blue compact that is portable and classy. On the inside is a huge mirror (always a plus), two double-ended sponge applicators and 5 gorgeous pastel shadows with the prettiest rose patterns embossed on them.
There is a chartreuse (top left), a white (top right), a turquoise (bottom right), a pale yellow (bottom left) and a baby pink (center). The colors are all super pretty and the wider variety also makes this palette more versatile and wearable. The shadows again apply with a creamy texture and slightly frosty with very fine shimmer and good pigmentation.
Below I am wearing the chartreuse in the inner half of the eyelid, turquoise on the outer half of the eyelid and baby pink on the lower eye. I also added a cat eye with Kiss Me Heroine Make Smooth Liquid Eyeliner and a pair of Korean fake lashes and mascara on the bottom lashes to complete the look.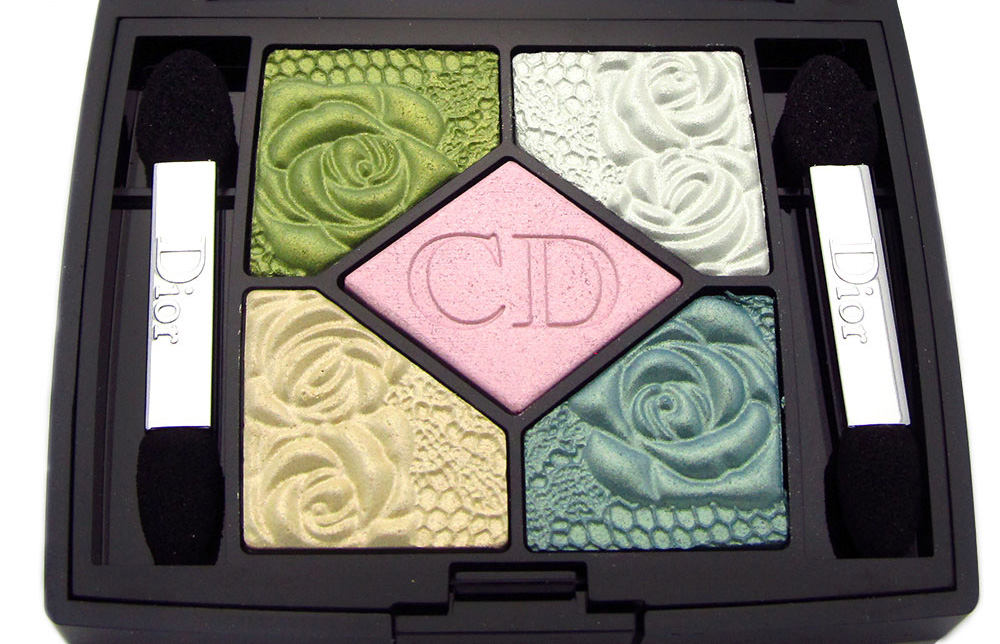 Bottom line, yet another winner from Dior! Do you like this or Garden Roses more?
Dior Garden Pastels 5-Couleurs Eyeshadow Palette is available at Nordstrom and dior.com for $59.
Disclosure: This review contains product that was purchased by us. It may also contain an affiliate link, which gives us a small commission if you purchase the item. Please see our Disclosure for more information on our posting policy.