Thanks to the LA Makeup Show, I have discovered Make Up For Ever 12 Flash Color Case. This cute palette contains 12 vibrant cream-based colors that can be used on the eyes, cheeks and lips and is sworn by all the pros in the industry (celebrity Makeup Artist Sharon Gault also used this on singer Keri Hilson for her music videos).



Make Up For Ever 12 Flash Color Case
The first thing that I noticed about the palette is the great selection of colors. The colors are:
* Gold 004 – Metallic gold
* Coral 002 – Vibrant coral
* Turquoise 000 – Light turquoise
* Fuchsia 005 – Bright fuchsia pink
* Yellow 013 – Vibrant yellow
* Brown 023 – Dark brown
* Silver 003 – Metallic silver
* White 010 – Pure white
* Red 017 – Bright red
* Bright Blue 014 – Bright royal blue
* Leaf Green 008 – Bright green
* Black 011 – Pure black
These are all very wearable colors and the fact that they included all primary colors means you get to be creative and mix them together to create different shades.
The texture is super creamy so it glides on and blends effortlessly. I like to apply with my fingers but you can also use a firm brush like MAC 242 Shader Brush to pat it on. The pigmentation is also excellent and a dab is all you need.
Plus how can you not love that it is multi-purpose?! You can use the product as a blush, lip color, eyeshadow or even as a base for powder eyeshadow and glitter.
The only downside is the price. This is definitely the most I have spent on a palette but if you do the math, a regular Flash Color retails $18 a pop and you get 12 colors in this one so it actually works out to be a pretty good deal.
Ugh talking about this palette is getting me excited! I need to go back to playing with it now! *lol*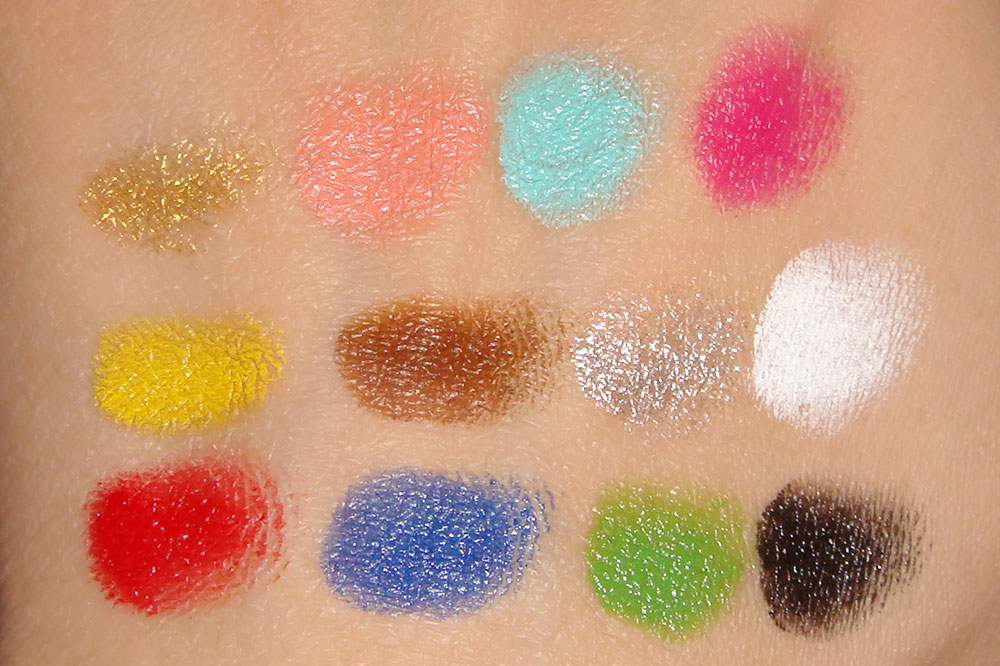 Make Up For Ever 12 Flash Color Case swatches



Wearing Make Up For Ever Flash Color in Coral 002 with Gold 004 dabbed on the center
Make Up For Ever 12 Flash Color Case is now available
Sephora.com
for $95.