After looking at the different types of foundations on the market, let's focus on eyebrow products as requested by Jadebutterfly.


Without a doubt,
eyebrow powders
give the most natural look. They are great for filling in sparse areas and you can build up the color gradually. Powders are also the most long-lasting but they do require an angled brush for application.
Canmake Powder Eyebrow (~$5)
(pictured above) comes in a cute little compact with two different colors and a two-ended applicator. The powder itself is not very pigmented but is sufficient to add a little color to my sparse eyebrows. I also like the tiny applicators that came with it. The slanted one is great for applying the powder onto the arch. My only rant is the packaging. The case is not very sturdy and mine broke within a few months. The powder also cracked so I had to throw it away.
You can also use eyeshadows as brow powders. I love using
Stila Espresso Eyeshadow ($18)
, a "shimmery grey brown" with my MAC slanted brush to fill in my eyebrows every day for a natural look. The color is perfect and very pigmented. Plus the powder formula stays on all day until I take it off.
Eyebrow pencils
, on the other hand, give a more precise application and are best for lengthening the arch. They are also great for touch-ups but you will need a steady hand and practice and the result can end up looking harsh if applied improperly.
I have
Red Earth Eyebrow Pencil (~$5)
in a dark brown color which is really close to my natural hair color. It is great for touch-ups and despite the slightly hard texture, it goes on very nicely. The only thing I do not like is the spoolie. It feels very stiff and scratches my skin a bit.
Bourjois Precision Eyebrow Pencil ($12.50)
comes in 2 shades and I got this in
Blonde Fonce
. The color is a light taupe which is slightly lighter than my natural hair color but it looks really natural. Unlike my other eyebrow pencils, this one contains carnauba wax (which explains the slightly waxy feeling) and it glides on really easily. It also stays on really well and I totally love the little brush on the cap. I will definitely repurchase this!
Rimmel Professional Eyebrow Pencil (~$4)
comes in 3 shades – Hazel, Dark Brown and Black – and I use
Hazel
. Like the Bourjois eyebrow pencil, this comes with a little brush on the cap for brushing your eyebrows upwards and for blending. It feels a lot softer on my skin compared to the Bourjois and Red Earth pencils but it is highly pigmented. The color also holds up pretty well plus it is the cheapest out of the three too. Now that is what I call a steal!
Finally, we have
eyebrow gels/waxes
, which are great for keeping your eyebrows in shape. Tinted ones can also help change your brow color and make your brows look fuller without looking fake. The only downside is they do not provide as much precision as pencils or powders.
I *love*
Testimo Brow Mascara (~$10)
when I am trying to lighten my eyebrows. I use
#1
which is a goldish bronze color and even though it looks a little scary in the tube, it shows up really natural on me (try picturing those Japanese girls with tinted eyebrows you see in magazines). The only thing that bugs me is when it dries, it hardens and makes my eyebrows look a little stiff. Other than that, this product is great!
MAC Brow Set ($12.50)
comes in 4 tinted shades or clear. I have
Beguile
and compared to the T'estimo brow gel, the color is more taupey. It does not lighten or darken my eyebrows a lot but definitely adds a little color and keeps them in shape. There is no flaking or stiffening either. I always use this with a pencil for a polished look.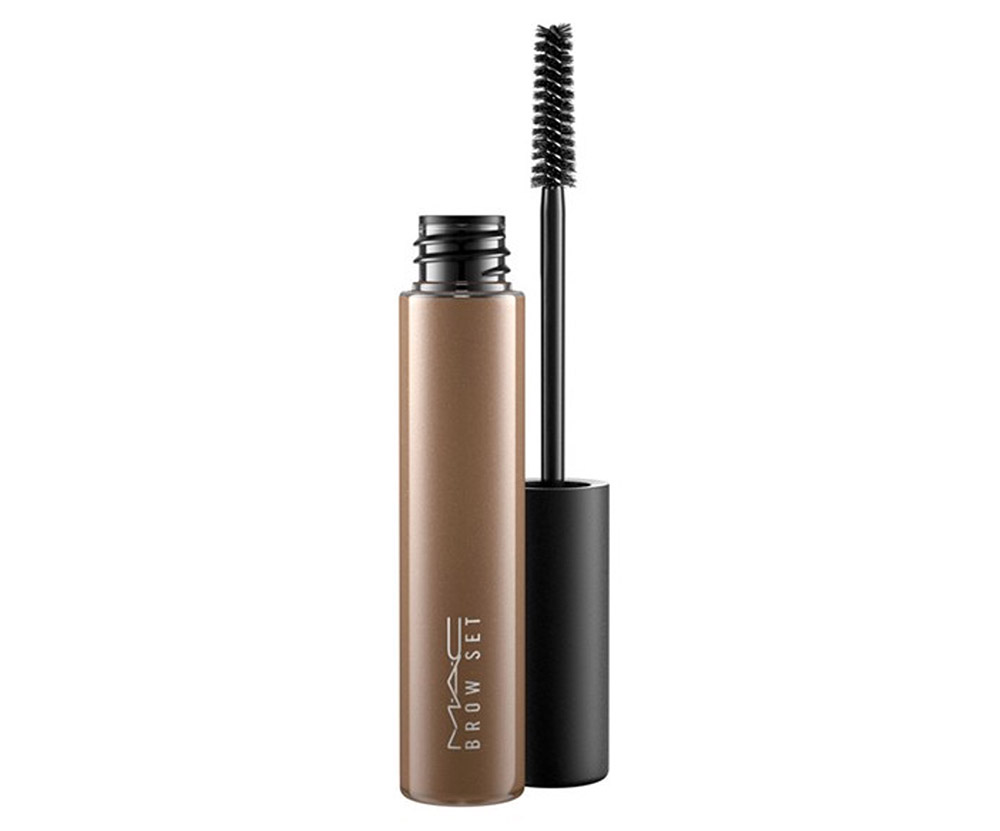 Sonia Kashuk Perfect Arch Brow Kit ($10)
comes in four different shades – a light brown, red-brown, medium brown and dark brown. I really liked the idea of having different colors in the palette but the texture was very waxy and extremely hard to work with. Pigmentation was really poor and barely did anything at all. It also made my brows kind of clumpy and the mini spoolie and angled nylon brush that came with the kit were too soft and completely useless. I ended up throwing this away.